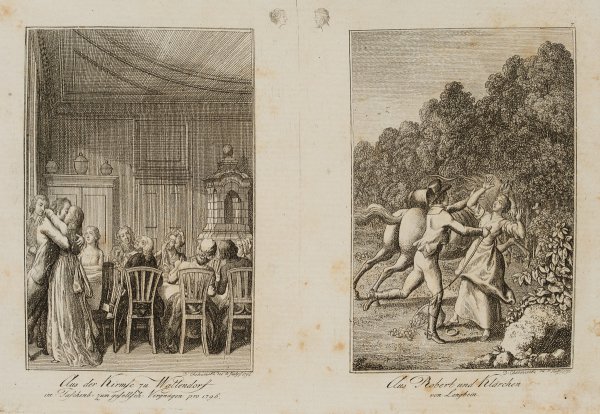 Date: 1796
Type: Prints
Edition size: limited
Sheet size: 13,7 x 17,4
Condition: pristine
Signature: signed
Price: Price on Application
Description
signed and dated at lower left right: "D: Chodowiecki del: & sculps: 1796"; inscribed at lower left: "Aus der Kirmse zu Wattendorf im Taschenb= zum gesellsch= Vergnügen pro 1796"; signed and dated at lower right: "D: Chodowiecki del: & sculps: 1796"; inscribed at lower centre: "Aus Robert und Klärchen von Langbein"; inscribed at upper right: "7.". Engelmann Collection

Series: 8 sheets for W.G. Becker's paperback for 1797, sheets 7 and 8, sheet
Catalogue raisonné:
Engelmann 1857, E 830 IIa/II, E 831 IIa/II
Keywords:
Paperback and almanac for convivial enjoyment. By W.G. Becker for 1797", "Love, Couple, Costume, Dress, Nature, Margin, Engagement, von Wallendorf, Schreiber, Klärchen, Robert, Horse, Forest"., Classicism, Genre
Condition:
Still in good condition, especially on the edge of the sheet stained and discoloured, minimal damage to the right edge.
---
---
Chod/D 783