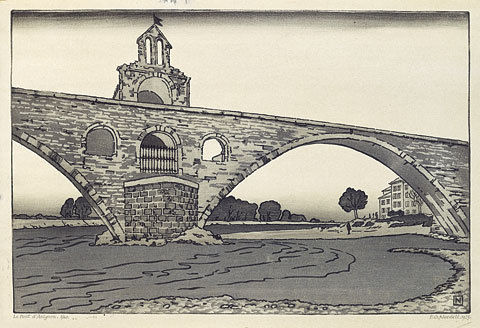 Date: 1925
Type: Prints
Edition size: from an edition of 60
Sheet size: 26.1 by 38.2
Condition: excellent
Signature: signed
Price: Price on Application
Description
woodblock print; titled and signed in elegant script in pencil, le Pont d'Avignon. 3/60, P.G. Needell. 1925., self-carved and self-printed, ca. 1925, from an edition of 60 10 1/4 by 15 in., 26.1 by 38.2 cm Philip Needell was an English print artist about whom we know very little. He was an active participant in the Society of Graver-Printers from 1927-1936. His distinctive, intricate landscapes and cityscapes of English and French subjects are easily recognizable. Although this landscape is somewhat more moody than most of his oeuvre, the careful attention to the architectural details and the tonality of the composition is typical of his work.
More artwork by Philip Gregory Needell from this gallery