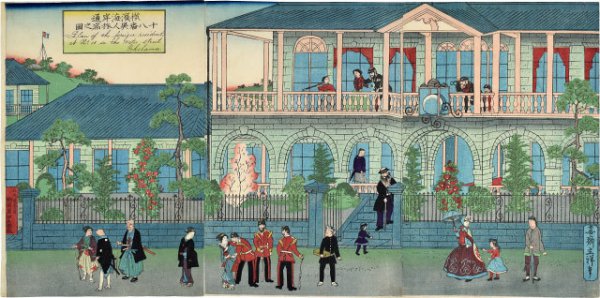 Date: 1869
Type: Prints
Medium:
Edition size: n/a
Sheet size: 36.5 by 73.9
Condition: excellent
Signature: signed
Price: Price on Application
Description
Full title; Plan of the Foreigners Residents at No. 18 on the Water Street, Yokohama signed Kisai Rissho hitsu, published by Moro-okaya Ihei, ca. 1869 oban tate-e triptych 14 3/8 by 29 1/8 in., 36.5 by 73.9 cm Hiroshige II was married to the first Hiroshige's daughter Tatsu, but when they divorced he took the name Rissho. Although his prints were included in the international exposition in Paris in 1867, he had little success at home and eventually was painting lanterns to earn a living.