An Exclusive Interview With Judith Shea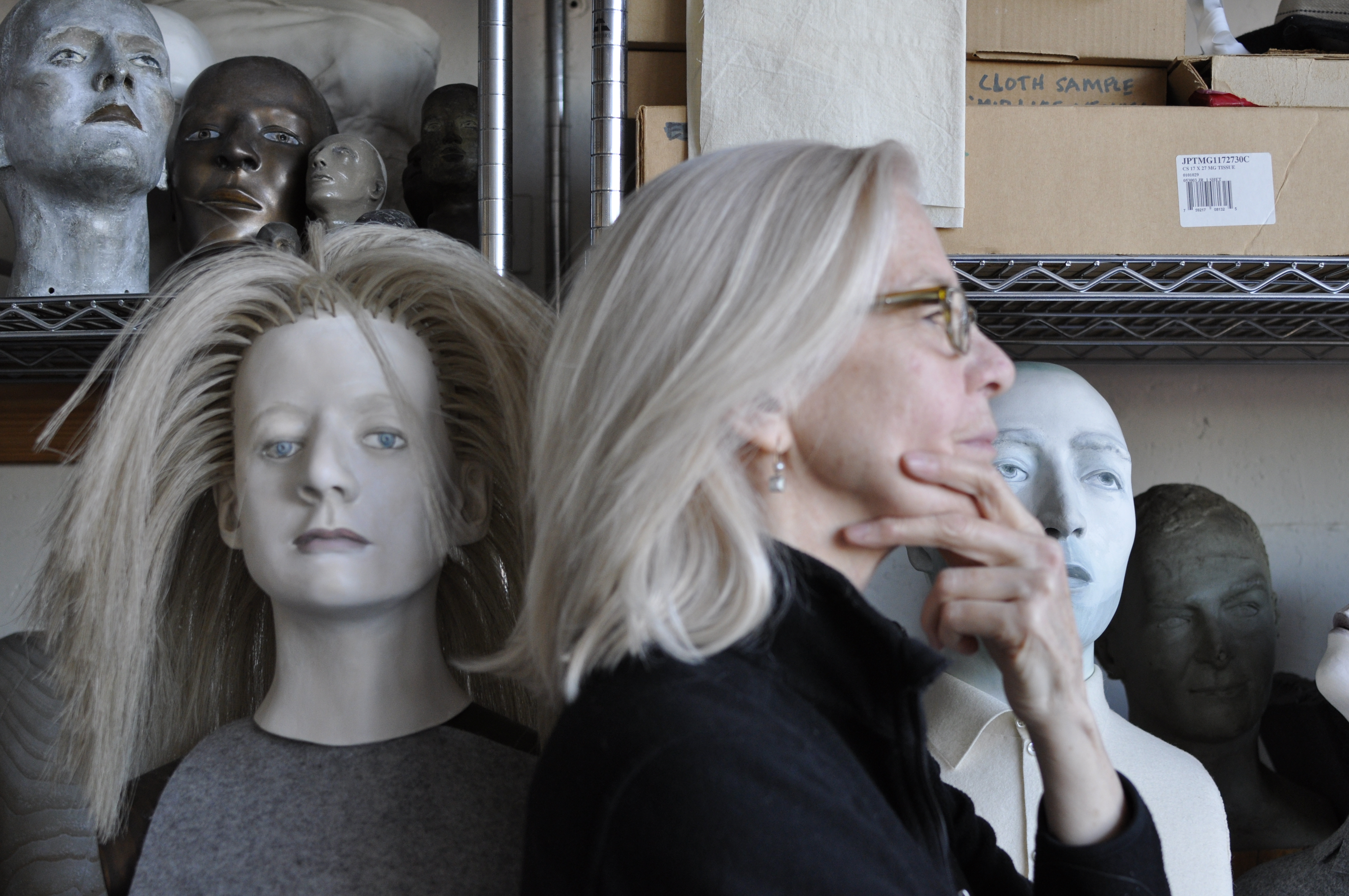 Is there a natural crossover between fashion and art in the creative process?
I only worked in the fashion business for a year, 1969-70. I lost interest in it. That was a moment of great unrest and change in American society – civil rights, women's 'liberation', Vietnam, the assassinations of Bobby Kennedy and Dr. King, Earth Day, and Nixon. In my fervent twenty-one year old world view, fashion didn't seem worth giving my life to. The crucial thing I brought from my great design education though, was the knowledge of how to build a figure – using cloth. This technology was vital to my early work, and remains so.
Were you readily accepted by the art establishment?
My first exposure as an artist was an open studio project in April 1976 at The Clocktower, Alanna Heiss' alternative space in Lower Manhattan. It was actually the trial run for PS1 which was to open that June.
I presented a color theory performance using a full spectrum of sheer silk shirts and pants, mixing colors by layering the clothes. There were five performances over three days, and for each one the audience doubled in size. So, in the small pre-internet New York City art community of that time I guess you could say it was being talked about.
In the late 70s the dominant art was still Minimalism, particularly sculpture. Women artists work and feminist work, were still underground. In fact, any art that was not abstract, formalist or Modernist was pretty marginalized, but the margins were very fertile.
In January 1981 three of my cloth pieces were in the Whitney Biennial. John Ashbery's review for NEWSWEEK magazine on February 23 of that year summarized it this way:
"In the majority of cases, however, the work falls between schools. What do you call Scott Burton's granite chairs or Judith Shea's severely tailored dresses, which have titles like "Inaugural Ball" or "Exec.Sec'y"? Whatever you call them, you're not going to get it right. The message that today's artists are collectively beaming at us is that there is no message, that from now on art isn't going to be what you expect it to be".
It was later in the 80s that the art world went crazy for fashion. At which point my work, which hadn't easily fit into any categories in the previous decade, was shown with younger artists, some of whom I had worked with as students, who had begun to use clothing/fashion, often in more overtly political ways.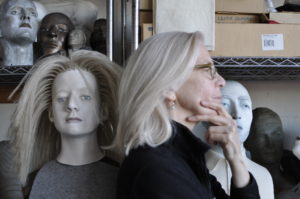 How would you describe your work?
In my early childhood in Philadelphia we often visited American Revolution sites, like Valley Forge. Soldiers' log cabins and George Washington's jackets, I loved that. But I also fell in love with Degas' Little Dancer, Fourteen Years Old at the Philadelphia Museum. Art and history combined to have a powerful impact on me. I remember them as being presented with equal reverence, and perhaps, therefore, I grew up without a sense of distinction between high and low among the artefacts. This was more deeply formative than my later schooling.
Exec.Sec'y (1979) mentioned above by Ashbery, is a tan sheath, or looks like one. It was based on the experience of a secretarial job I had in the 60s while a student. I was answering letters with questions about sewing for Simplicity Patterns. There were hundreds of women sitting at desks in a huge, fluorescently lit room with no partitions, but I felt we were expected to look as much like Grace Kelly in a Hitchcock film as possible on a $60 dollars a week's salary. So the dress is made of burlap, cheap and scratchy like a hair shirt, because basically we were corporate nuns.
Two years later I made a 3 dimensional 'sheath' out of industrial felt saturated with wax and India ink, titled Black Dress (1981). This was an image I recalled of my Mother, tall and thin, in the dress she wore for special occasions in the 50s. It is an idol, an icon from my childhood. One whose larger social significance is loaded with the ideals of a generation of women and how we were supposed to be.
That year I also broke the dress into parts, and cast some of them in iron – Crusader (1982), Form and Function (1982), and then cast the whole dress in bronze, Standing There and Taking Shape (both 1983). This move was twofold, first, technically in my progression to 3D, cloth didn't stand up enough. Secondly, I wanted them to be set into the larger context of the figure in art history. I wanted them to be taken seriously. I began to realise that a young woman who put 'dresses' on the wall in the JUDD era was easily dismissible.
The recurrent male figure in my works is the overcoat. The first one, I Like Ike (1979),
shown in that '81 Biennial group, was black canvas. It was later configured multiple times in bronze, from Memento Cubi, 1984 to Post-Balzac of 1991 – which stands opposite Monument to Balzac in the Hirshhorn Museum and Sculpture Garden on the Capital Mall in D.C.
'Ike' came from a memory of commuting from the suburbs to Parsons in the late 60s:
Business men got on the train, folded their overcoats in half, then in thirds, put them on the overhead shelf, sat down, opened their New York Times, folded it in half, then in quarters, and started reading.
Years later I was reading about Japanese rituals of folding and displaying the kimono. I thought about those business men and their coat strategy. I Like Ike was the slogan for Eisenhower's presidential campaign in '56. The overcoat signified the profound conformity of the society in that success driven post-war period.
The later use of the coat in Post-Balzac refers to Rodin's sensuous, grandiose, exuberant artist of Monument to Balzac (1898) and compares it to his existential heir at the end of the century – after the revolutions, World Wars, the bomb, and putting a man on the moon. It is a kind of memorial to different times, or a finale.
What is it about prints that has led to you using this as a medium?
In the 1970s cloth pieces I worked directly in the original material. After I started making iron and bronze sculpture in 1981, I made drawings first because of the laborious and lengthy casting process. I continued this into the 1990s, when I was carving wooden monument statues. These drawings led to opportunities to make my first engravings.
I also began to use Polaroids in the 80s. It gives you distance, after the intimacy of working on something all day long, to leave the studio with a picture and look at it later. You can see more objectively what works, or doesn't. That is how photography came into my work. Now I use my phone, I edit and sketch over the studio shots on my subway ride home.
After the attack in 2001 my home in Lower Manhattan was fenced in as part of the 'evidence zone' around the World Trade Center. Upon returning I took pictures of the state of my neighborhood, then I printed them and made collages. But my new computer, replacing my 'dust' saturated one, had Photoshop. Inadvertently while playing with the program I merged a picture of the empty windows of my favorite store – Brooks Brothers which directly faced Ground Zero, with that of an unfinished figure in my studio. This overlay image was the key to a body of work about 9-11.
I wanted to print these images with the raw and technically rough quality they had, their translucent veils, and I couldn't find a printer who agreed. That forced me to figure out how to make my own prints archival. Lower Manhattan Classic ll and Abu Coats at Steven Vail Fine Arts are two from these original images. This process is now a regular part of my work.
What are you currently working on in your overall career and what is the "theme"? 
The work on the subject of September 11th, "Judith Shea: Legacy Collection" (2006-10) is full of many of my earlier concerns. The figures are carved to resemble mannequins, stitched into industrial felt that appears like classic grey flannel business attire (the sheath and overcoat). I visualized them situated in the windows of the Brooks Brothers store that Tuesday morning, facing the Towers. Their upturned faces, shocked and anxious, and their clothes stained with dust and the light of explosion. Based on a real scene, I see this as a unique metaphor, the juxtaposition of a display marketing success, American Style, reflecting this grandiose attempt to topple it.
The work which followed that was an all-white figure called Still Standing (2010), the survivor, the resurrected. Making it brought me back to the third stage of my career, full figuration. Initially I made this move in 1991, carving white Northern pine statues based on old monument forms, including two equestrians. I was interested to see if these tropes were really dead (murdered by Modernism), or could be reinvigorated. I mimicked the monumental forms, but the subjects addressed how we now feel about that monumentality – a naked, tired white man riding a tired blonde horse (No More Monument,1992), a little girl on a pedestal, ready to run away from home (Mama's Girl, 1992). That body of work, written about by Brooks Adams as "Shea's Anti-Monuments" in Art-in-America (April 1993) were all carved and stained wood.
Because of a severe (but temporary) respiratory problem in 1995, I had to stop carving – too much dust. I didn't want to go back to the hollow clothing form, so I started combining every process I knew – carving figures in foam, cutting balsa, sewing cloth, bronze, hair, paint.
In 2012 I was invited to curate an exhibit for the National Academy of Design. I chose the self-portraits of the women artist members of the Academy from the collection. It was titled Her Own Style. As the Academy works were mostly paintings, I made a few 3D portraits of my favorite figurative sculptors to add – Louise Monument (Bourgeois), Elizabeth Tribute (Catlett), and Marisol. They are made out of many materials.
Last month I finished a new figure, mostly sewn, A Woman Designs A Man, for an exhibition celebrating the 200th Anniversary of the publication of Mary Shelley's Frankenstein. The show is called "… or, the New Prometheus", which is the subtitle of Shelley's book.