Kenneth A. Friedman & Co.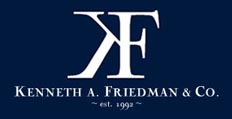 About Kenneth A. Friedman & Co.
Kenneth A. Friedman & Co., a division of International Art Resources Inc. was established in the Los Angeles community of Calabasas in 1992. Our principal focus is specializing in fine prints, unique works on paper, and sculpture by Modern & Postwar Contemporary Masters. We are also available for private, one on one consulting for the entry level collector as well as the long term seasoned collector. In addition to maintaining an active, owned inventory of both prints and original works, we are also actively buying inventory. With close to 26 years of experience in the Fine Art business domestically as well as internationally, we are recognized by many to be at the forefront of the industry. We pride ourselves on integrity, reliability, and comprehensive customer service, and will do our very best to meet your individual needs as they arise.