Imagined Architecture / Active Landscapes
A project by Tandem Press.
The urban landscapes and structures depicted in this collection of prints by Benjamin Edwards, Al Held, Nicola Lopez, and Robert Stackhouse have been freed from realistic notions of weight, strength, gravity, and solidity as their tumbling architectural forms rise, breathe, stretch, move and tumble.

The most quiet of these works, Stackhouse's built structures are both monumental and ephemeral. His skeletal forms proudly hold a sure stance as if they are in the later stages of being built and are awaiting their drywall skins, but even in their stillness, they also appear to float like a great ship passing slowly on calm water. An ephemerality resides within the monochromatic space they occupy and within the air that blows through their slats. They have yet to be tainted or distracted by the noise of everyday life.

If Stackhouse's structures reside within a vacant placeless space, the landscape within Al Held's "MN Black" and "MN Blue" is placeless in a self-contradictory way. Held used the rules of geometry against themselves as he constructed unbelievable spaces that include random and multiple perspectives within a single composition. A magnetism exists within the geometric forms; they resist each other even as the viewer tries to place them within the same plane.

At first glance, the bold dark line that travels throughout Nicola Lopez's "Untitled (cityscape)" appears to be in conversation with Held's work, but upon closer inspection, it seems more like cracks breaking apart the landscape. The cityscape lies on the brink of disaster or the upheaval that Lopez expresses within her "Urban Transformations" – worlds that are built from manufactured debris knotted up by urban cycles of growth, use, and disuse.

In opposition to, or possibly as precursors of, Lopez's urban landscapes that fold in on themselves, Edward's work presents bird's eye views of urban and suburban environments as if they were pop-ups. Colorful notions of consumerism float just above the streets and sidewalks like flags, creating visual clutter that hinders view of skyscrapers and majestic buildings that rise in transparent layers just beyond the urban jungle. Is Lopez's "Big Eye" possibly a warning of what is to come out of the consumer culture that Edwards presents and critiques within his work?

The works included in this collection are aesthetically very different but are brought together by a shared freeness in their depictions of structures that are alive. From the nobility of Stackhouse's forms to Held's imagination, activated by the conversation revolving around impact presented by Lopez and Edwards, these artworks are indicative of various aspects of human life.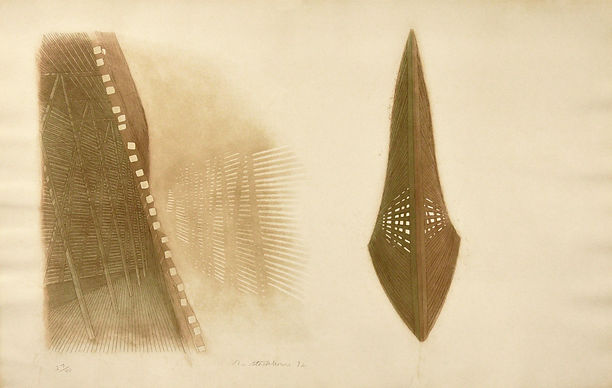 Imagined Architecture / Active Landscapes
For all enquiries contact Tandem Press.