5 Celebrated Contemporary Chinese Artists
These are five Chinese artists who have shaped the landscape of contemporary art in China over the last several decades.
Ai Weiwei
Ai Weiwei is a well-known modern Chinese artist. He has been a prominent opponent of China's human rights problems and works in a range of media. Because his father, Ai Quing, a fellow artist, had been accused by the Chinese government of being a "Rightist," he had to spend some time as a child in re-education camps. Later, Ai Weiwei studied animation at the Film Academy in Beijing. He supported himself after relocating to New York by sketching street portraits of passersby and was influenced by artists like Andy Warhol and Allen Ginsberg. He pursued additional education at the Parsons School of Design and the Art School League of New York.
His marble sculpture of a surveillance camera and a series of photos of him dumping and breaking an urn that was allegedly 2000 years old are among his most well-known pieces of art. His work demonstrates a constant concern for free speech and civil liberties. He was arrested by the Chinese government in 2011 for 81 days. He released his debut music album, The Divine Comedy, in 2013, to mark the second anniversary of his release. He served as an advisor to the Beijing Olympic stadium's artists in 2008.
View Ai Weiwei prints here.
Zhang Xiaogang
A modern Chinese symbolist and surrealist painter is Zhang Xiaogang. The majority of the paintings in his Bloodline series are monochromatic, stylised portraits of Chinese individuals, typically with huge, dark-pupped eyes, positioned stiffly and purposefully evoking 1950s and 1960s family pictures.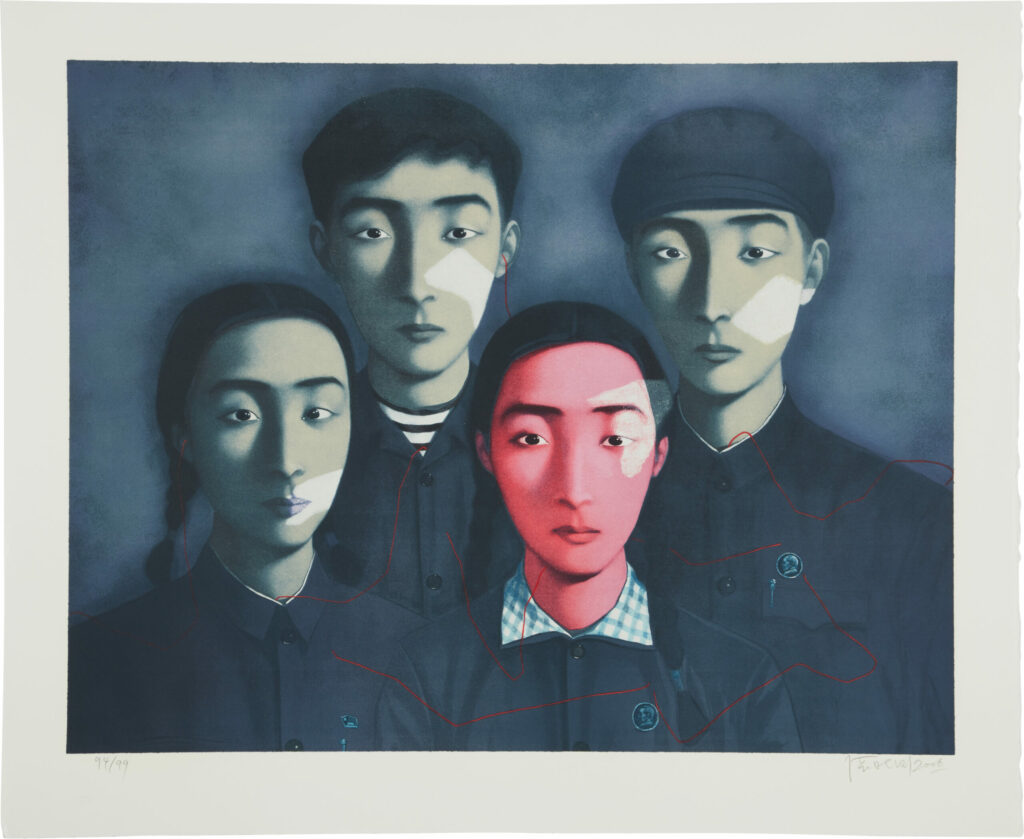 View Zhang Xiaogang prints here.
Yue Minjun
Yue Minjun is a contemporary Chinese artist with a highly autobiographical aesthetic. His most well-known pieces are self-portraits in which he may be seen laughing in various settings. Although watercolour, sculpture, and print are often replicas of his initial oil paintings, they remain his first love. In the 1980s, Minjun pursued his craft at the Hebei Normal University in the northern Chinese province of Hebei. His main inspiration is fellow Chinese painter Geng Jianyi, a contemporary of his own who started doing laughing face paintings in the 1980s.
View Yue Minjun prints here.
Feng Zhengjie
In 1968, Feng Zhengjie, a Chinese artist, was born in the province of Sichuan. He is renowned for writing pieces that critique modern culture, capitalism, and its repercussions on his native nation. Despite his clear dislike of modern consumerism, Zhengjie claims he doesn't intend to offend anyone or stir up controversy; rather, he just wants to express his opinions on the matter. He is known for using women's lips as a major motif in his paintings as well as the expressionless, soulless stare of professional models. His style is to work with strong, dramatic colours in oil paint. After beginning his career as an art teacher, Feng Zhengjie later transitioned into the field of professional art, settling in Beijing in 1995 to pursue his artistic endeavours. The series of canvases known as "Portrait of China" is one of his best-known pieces and showcases his vibrant, sarcastic style. A piece that Zhengjie and Singaporean actor Qi Yuwu made together in real time at the World's Apart Fair in 2013 is particularly noteworthy. Beijing hosted his debut exhibition in 1996. Since then, he has held numerous exhibitions in his native country as well as abroad Canada, France, Korea, Singapore, Taiwan, Japan, and New York.
View Feng Zhengjie prints here.
Zeng Fanzhi
One of China's most vibrant and expressive artists is Zeng Fanzhi. Zeng Fanzhi is a well-known modern Chinese printmaker and artist whose creative process is virtually comparable to performance art. When the maestro is painting, you can watch him working tirelessly. As the curves and colours combine, works of art that evoke strong feelings and thought processes emerge.
Chinese Artists
View prints by more Chinese artists here.